| | |
| --- | --- |
| | News Updates Hastings & Rother |
---
Hastings
We had the privilege of attending and laying a wreath at the War Memorial in Alexandra Park on Sunday in honour of those that sacrificed everything for our freedom. "We will remember them".
As part of #OpSceptre week, while on our regular patrols, we went and spoke with local shop owners and staff in the St Leonards area about the dangers and consequences of young people carrying knives.
We popped into the European Mini Market, Helens Fresh Halal Supermarket, Londis, Co-Op and other stores in the St Leonards area, to let them know about our resolve to keep our communities safe from knife crime.
Although many stores don't sell knives, they recognised the importance of our message and were happy to display one of our posters in their window and find space on their counter for our 'No Knives' leaflets.
If you would like to dispose of unwanted knives, please use our 'No questions asked' amnesty bins, which can be found at your local police station.
Find guidance on opening up the conversation with a young person or if you have questions around knife crime, please visit our website here
ROTHER
Diary Date
Road Safety Event
23rd November 2023 11:00-14:00 Rye Market Car Park
Please join us, East Sussex Fire and Rescue, Sussex Ambulance Services, plus Sussex Safer Roads Partners. We will be available to answer any questions you may have around Road Safety.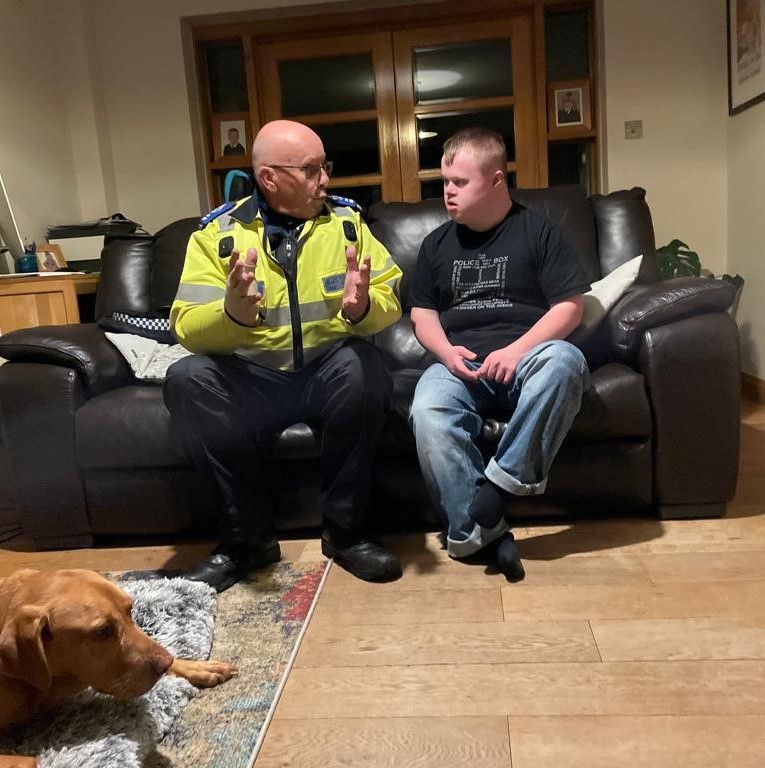 It's always great to know youngsters like to see or talk to us, and Toms enthusiasm to meet with us was much appreciated but calling on 999 was not quite the way to go about it.
So, his foster mum suggested a personal visit to the house, giving us the chance to chat with Tom about our role and gently explain to Tom why this wasn't the best way to meet us and how 999 was reserved for 'save the day' kind of moments.
I had the pleasure of speaking to everyone at the Robertsbridge Community Centre Lunch Club yesterday.
The main topic was centred around doorstep and telephone scams, and how to deal with text message where someone is posing as a family member in need or cash.
These scammers prey on vulnerable people that are not aware of the methods used to get you to part with your hard-earned cash.
Let's make everyone aware, you can help by informing vulnerable family members or neighbours about the current scams that are being used.
We can provide you with a free copy of 'The Little Book of Big Scams' which can be picked up from your local police station or visit our website here for the latest information.
What if you receive a message from a family member that needs cash saying they have broken or lost their phone.
· Always verify the person is who they say they are by contacting the family member on their original phone number.
· If they are unreachable, verify the identity of the sender by asking them a question such as 'what colour is dad's car?', or 'what colour is the front door?'
· Go online to look up whether the new number has been reported elsewhere as a scam.
· Be wary of suspicious wording, unusual spellings or phrases that seem out of character – while superficially convincing, many scammers make obvious errors, particularly if English is not their first language.
· Never pass on personal details or make any payment via your phone unless you are 100% sure the person you are speaking with is who they say they are.
What if the police call, text or email saying your bank card has been compromised?
· The police will never ask you to transfer or withdraw money or buy items on their behalf.
· The police will never attend your home to collect your cash, bank cards or ask for your PIN number.
· The police will never ask you to participate in an undercover investigation.
Never give you bank details to anyone via text, over the phone or email, not even the police without checking who they are.
---
Reply to this message
---
---
Message Sent By
Sharon Eldridge
(Police, District Engagement Officer, Hastings & Rother)
---